Flyers
Sending a paper invitation home with every boy at school can be a very effective marketing tool for your pack. To give parents advance notice of join night, arrange to have flyers go home with boys one week prior to the school talk.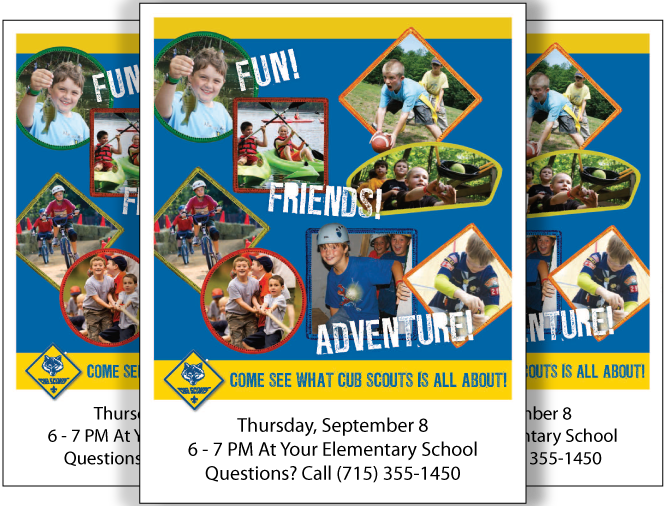 Tips for Great Flyers
Plan ahead: every school and school district has its own flyer approval process, so please remember to budget time for this. Your district executive will work with you to get your flyer approved, but parents at your school are more likely to have a relationship with the principal, secretary and other school administration, which may help speed the process along.
If your school does not allow flyers a postcard can be mailed directly to boys.
Contact your district executive to coordinate printing and distribution of flyers and other materials.
Flyer Content
Great recruitment flyers include all the vital details about your join night and also include a number to call if parents need more information. For example:
All Boys in Grades 1-5: This is Your Invitation to Join Cub Scouts!
Pack 700 will be hosting a sign-up night on
Thursday, September 14 from 6:00 - 7:00 PM
At Your Elementary School (123 School Lane, Your Town)
Can't make this meeting but still want to join? Call
Bob at (715) 123-4567 or Sue at (715) 765-4321
Online Flyers
Many schools have stopped distributing paper flyers and instead now utilize electronic flyers (e-flyers). An advantage of e-flyers over paper flyers is that there is no chance that their child will lose the invitation before they get home. Email the website administrator your flyer and check to make sure it is published at least two weeks before join night. Customizable e-flyer templates can be found at the BSA Brand Center.